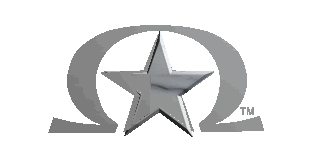 updated Fall 2000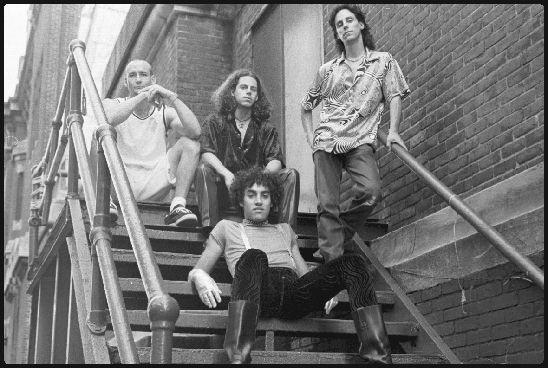 photo by Eric Flisser
Thanks to all the supporters out there who have been visiting this site and sending in comments and notes, even though OMEGA BABY has been quiet for some time now. Here is the band's current status. The auditioning of new singers went on for quite a while without any success. Even though there were many talented folks we ran into along the way, the feeling here was to either do it right or not do it at all. So it seemed that the time had come to move on to new projects.

Cliff and Jon have recently finished their long-awaited side project, THE McGEES, whose difficult-to-categorize debut album "DIMESTORE ROMEOS" has just been released, and is available through Amazon.com. Jon is also playing guitar and co-writing with Andrea, a female singer/songwriter with a unique pop/ acoustic-rock/ alternative blend. Edmond has gone back to school, where he is majoring in Liberal Arts and is extremely proud of his 4.0 average. And big congrats go out to Matt, who, after extensive auditioning, was chosen to play drums with the Las Vegas production of the amazing performance show Blue Man Group.

Jon and Cliff visiting Matt in Las Vegas,
summer 2000

This site will remain up at this address: www.skyblues.com/omegababy for those of you interested in checking out the archived photos and music. As always, we thank you for all your continued support!

EARLY 1999 NEWS: As of the new year, OMEGA BABY has parted ways with singer Edmond Ordez, due to creative and professional differences. Currently Jon, Cliff and Matt are in the studio recording new material and auditioning singers. We'd like to thank everyone who supported us this past year and hope we can count on your support in the future as soon as we get the ball rolling once again.
Thanks and Happy New Year to all, and be sure to check this space for future news and announcements.





Check out MusicScape, an excellent website devoted to up-and-coming bands, music news, and more. In their latest review section you'll find a B+ review of the OMEGA BABY tape. Also, those in the New York/Connecticut area should check out the October 1998 issue of MORE SUGAR MAGAZINE for a review of the band's 4-song demo. Thanks to editor Brian O'Roarke for the kind words!




We'd like to thank everyone in the Upstate New York region who came out to support OMEGA BABY's area debut at the Planet 505 in Syracuse. Special thanks also goes to the Syracuse New Times for their feature on the band and preview of the show.

There is now an Omega Baby Bulletin Board located at iMusic. Here you can post messages and read
comments regarding the band. Post away, and special thanks to those who got this started!

Thanks to Sam and Bez of Greenwich CT, who run a cool site called FreeTunes, for putting up a brand new OMEGA BABY page. Their site is dedicated to the best in original music and is a great site to hear songs, in their entirety, by a wide variety of up-and-coming artists.




we would also like to tell you about some of the worthwhile bands
we have met and played shows with on the road,
and we encourage you to check out their websites...
Ritchie Blackmore's Rainbow
Spacehog
Gilby Clarke
Fat Amy
Black Oak Arkansas
Fleming & John
Probe!
St. Tone
Strawman
The Hazies
Friendly Ghosts
Jump the Gun
9811
and our hometown friends Patti Rothberg
and Too Much Joy